Why Scotland you may ask! The answer is quite simple – Custom Tours has the local connections to create a very special package. Paul is a writer and tour guide, and his amazing depth of knowledge about Scotland, as well as his charm and sense of humor, will make every moment of your tour special.
Lilian, who married and left the bonny hills of Scotland for the Green Mountains of Vermont, is now a tour director and guide for Custom Tours – and she will be making sure every step of your trip goes smoothly with our famous Custom Tours attention to detail.
Paul Duffney's Tour of Scotland for Custom Tours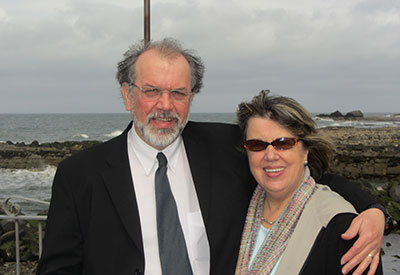 Both Paul and Lilian were born and raised in Edinburgh, and Paul still makes his home in this vibrant city. It is well known that having a personal contact at your tour destination goes a long way to ensuring that you will have a more intimate and in-depth experience, and not just a tourist's overview.
As your travelers dine on regional delights, explore the Highlands and the Lowlands, tour exciting cities and relax in bucolic villages, they will truly feel invited into the heart of beautiful Scotland. Both native guides will ensure that your passengers bring home not only lasting memories of Scotland's gorgeous, rugged landscapes and thrilling history, but also of the warm and hardy people who bring it to life.
Stay tuned for more updates as we progress with this new destination. If you are looking for a new tour package that will not be available to anyone else, that has the hands-on, local experiences and hidden treasures of a region, then you will want to travel to Scotland with Lilian and Paul of Custom Tours, Inc.!
Don't hesitate to contact us now. I'd love to share some of the wonderful things we have planned!